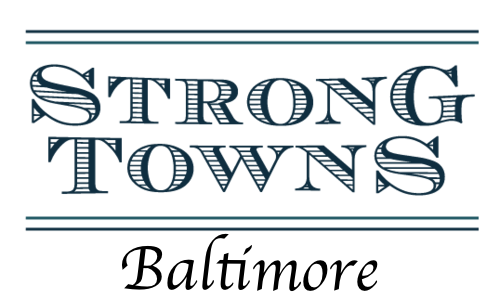 Welcome! Strong Towns Baltimore is a community advocacy group made up of residents of Baltimore, Maryland and its adjacent suburbs. We seek to strengthen our community via reforms that result in more productive, connected, walkable, sustainable, lovable places. By de-emphasizing automobile-centric land use and development practices, we'll get a financially resilient Baltimore region with safer roads, more housing choices, and greater prosperity - for all. The solutions we envision (which are bottom-up, local, and adaptive in nature) lie within ourselves, our neighbors, and our local governments.
Another way to wrap your head around what we advocate for is to read about the Strong Towns approach, as we are basically looking to implement Strong Towns principles. If you prefer video, watch the Strong Towns Curbside Chat video series.
Our cities are struggling financially, trapped in a system grinding them into decline. Working together in an intentional way, it is possible to make our places stronger financially while also improving the lives of people.
~ Chuck Marohn, Strong Towns Founder
If this resonates with you, take the next step! You've got a couple options:
If you're ready to take action,
our online discussion group.
If you want to stay updated,
to our periodic email list.
Of course, there's no reason you can't do both. 😃 Regardless, please attend an upcoming meeting!
If you would like to get in touch, please .